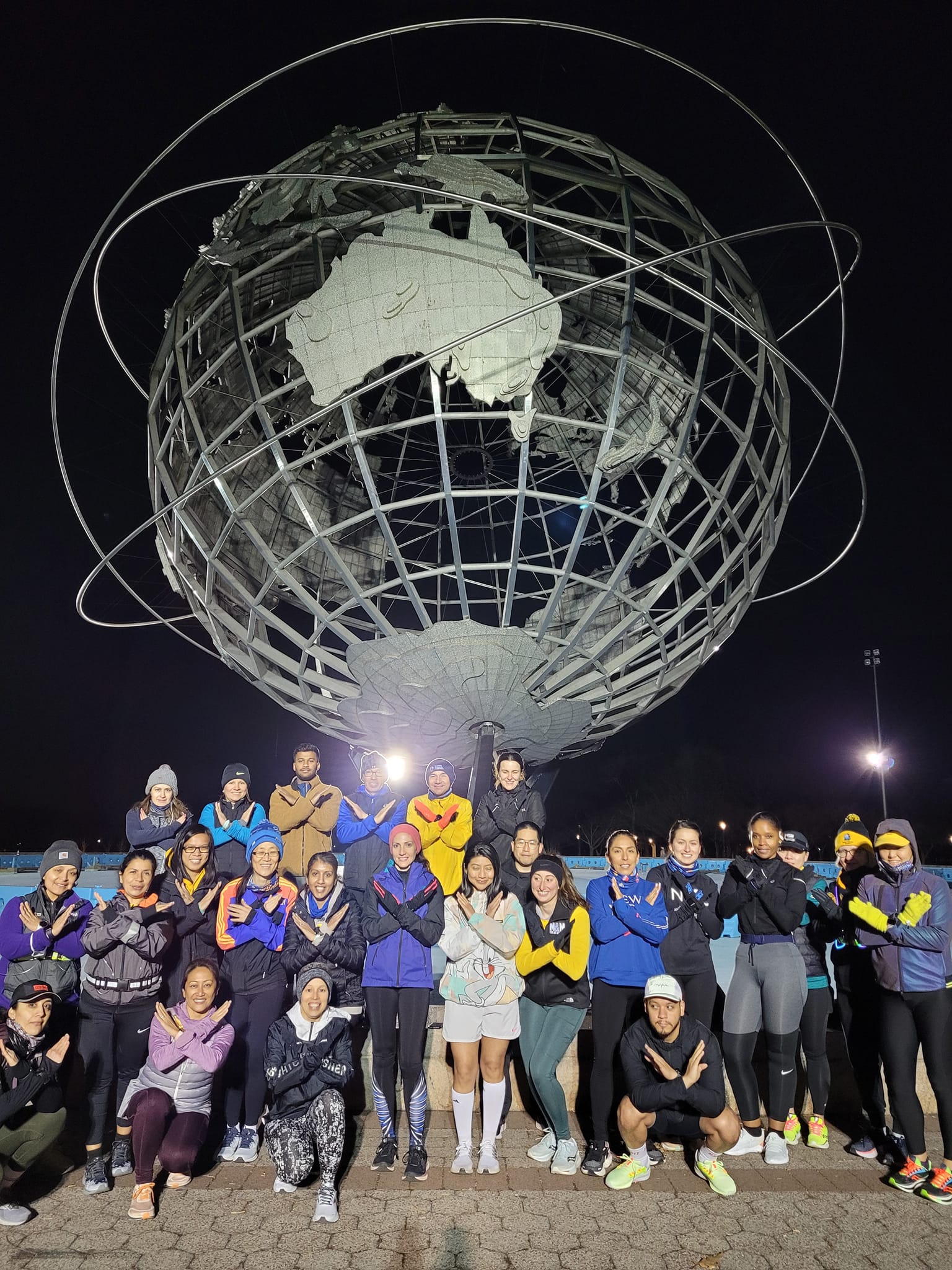 To all our people out in Queens: welcome back to the QDR blog! It's been a while, and we thank you for your patience; there was a good amount of work involved in changing from the old website to the new website. With that, let's get up to speed!
We closed 2021 with a flurry of activities (and even some flurries in December). The return of large, premier races saw our teammates tackle a globe-trotting list of marathons and half marathons. QDR was there in Chicago, Boston, Berlin, Philadelphia, Newport, and, of course, New York City. Once again, the myth of "Queens is quiet" was proven wrong as soon as runners entered our borough off the Pulaski. The gauntlet of cheering stations set up by QDR and our fellow Queens Running Collective teams brought unprecedented energy, especially considering all we have endured in the last two years. QDR fielded 107 finishers, ranging from first-timers to experienced veterans. Afterward, we celebrated these achievements and "brought it back to Queens" with the first-ever "Marathon Medal Monday" party at Neir's Tavern in Woodhaven. Thank you to Loy, the staff at Neir's, and the members of the Neir's 200 community for hosting us and being a part of the QDR family.
And speaking of marathons, but closer to home – we once again organized our flagship race, the Queens Marathon & QDR Half, not once but twice! November and December saw us cheer on teammates and friends in Flushing Meadows Corona Park. Fittingly, at our December race, over 40 volunteers (as well as plenty of spectators) watched outgoing Captain Kevin Montalvo not just race the Queens Marathon, but truly go the distance for Queens with an outstanding finish time of 2:58. On the other side of the race – incoming Captain Nancy Silva served as race director and once again coordinated a seamless, organized, and efficient brigade of volunteers.
We returned to Flushing Meadows Corona Park on New Year's Eve for a "changing of the guard" run: one final mile out with Kevin, and one first mile with Nancy. Teammates gathered to thank Kevin, Maria, and Edwin for all they have done with QDR and their work to transition/support the new leadership team of Nancy, James Poch, and Mike Bocchinfuso.
Whew! That's a lot to unpack. Onward and upward into 2022!
The weather outside was occasionally frightful, but the miles were so delightful. Nancy's initiative to celebrate life with a monthly birthday party group run series has been a hit. At our birthday runs, teammates gather to run for an hour, with different pace groups ensuring that all paces and abilities are accommodated. We start together, we end together, and we support each other as we see each other along the route. These have been a great way to strengthen teammate bonds in a relaxed and social setting, and even enjoy some treats afterward.
Similarly, we honored the diversity of Queens with special event group runs. We held a Lunar New Year themed run (postponed a week due to inclement weather) with a Strava art "Year of the Tiger" run, and a Black History Month run (with two start points in Jackson Heights and at the Unisphere) converging at the Lewis Latimer House Museum. And although we had to postpone our Spring Forward race in March, a large group of teammates joined in the Ukrainian Running Club's "Stand with Ukraine" run in early March as a show of support.
On the racing front – teammates hit the ground running with a fast and furious race lineup that began right out the gate in January. We saw PRs and strong efforts alike in a full range of distances: Joe Kleinerman 10K, Fred Lebow Half, Manhattan 10K, Gridiron 4M, and Al Gordon 4M. Further away from home, teammates took on races in Houston, Little Rock, Newport News, and more. Major thank you to our "Midwest Captain" Nick who has been maintaining the QDR Race Roster spreadsheet – take a look, learn about races near and far, and maybe even find out that your teammates will be running with you!
The first NYRR points race of the year, the Washington Heights Salsa, Blues, and Shamrocks 5K, brought a level of friendly competition and high energy to kick off the points race series. While Nancy and others held down the scream station for a power boost, 41 teammates were out tearing up the streets of Washington Heights. We saw the hard work of those who attend our Wednesday morning and evening track sessions paying off. Working together makes the hard workouts easier — you have others cheering you on! Leading by example, Co-Captain James Poch noted a new 5K PR. James has been writing about his "Road to the United Half" on his own social media accounts, and we welcome anyone else who want to share their story on our blog!
Our team is only as strong as what our members put into it. On that note, we want to hear more about our members' training, progress, and achievements. Are you training for a goal race or time trial? Would you like to let the team know about how it's coming along and lessons learned? Are you fundraising for a race? We want to ensure you meet not only your training goals, but your fundraising goals. Please reach out to us and we would love to amplify your story!
Follow us on social media, and most importantly on Strava, where the details of all our community group runs and track sessions are listed. Regarding our roster of neighborhood community runs: Astoria has re-joined the QDR lineup, which already includes Jackson Heights, Woodhaven, Flushing, Glen Oaks, and Forest Hills. We see potential for further expansion; if you feel there is a strong enough demand for a group run in your area, let us know!
Stay tuned to this space for more!
– Queens Distance